Labels for Seniors in Nursing Homes and Care Facilities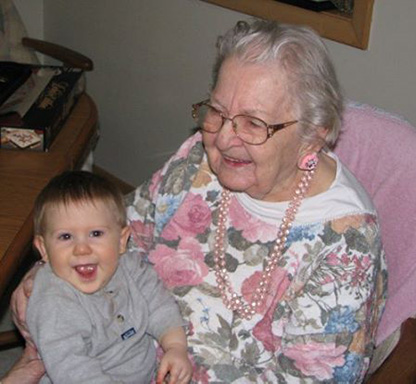 Moving into a nursing home or helping a family member move into an assisted living facility can be very overwhelming. One of the comforts is having one's personal belongings — clothes, linens and special items — around, but living in a facility also means that these items can easily get lost or mislaid. It is important to have things clearly labeled to reduce the risk of loss.
Iron on name labels are an item requested by Nursing Homes and Elder care facilities to keep residents clothing and personal items from getting lost or mixed up with the other residents.
These iron on name labels feature large, clear print that will not fade away in the washing machine. They are made to last with rounded edges that will not fray. Labels are made from soft, durable material and are comfy to wear. These nursing home labels are pre-diecut, so you do not need to do any cutting. Just pull apart as labels are needed. Simply attach permanently with a household iron. Ironing them on is preferred or sew them on. Labels are soft and thin enough and can be sewn on easily, if your fabric will not withstand a very hot iron.
Please take a look at our extensive range of personalized clothing labels for seniors, and durable, waterproof, smudgeproof, tear resistant poly stick on labels below. Click on the type of label you are interested in, and it will take you to the relevant product page where you can view all styles, colors and fonts, and place an order.
We offer a wide variety of colors and styles of personalized clothing labels from which to choose.
You could order labels that look like these:
Shop All Iron-on Label Products

What if Your Loved one Wanders Away?
It is important to alert others of their medical conditions.
Caring for a loved one with Alzheimer's Disease can be difficult. Iron-on clothing labels are a great item that will aide in the care of those with Alzheimer's.
Applying iron-on labels to the inside or outside of clothing is a reliable form of identifying the ones you love and alerting others to their condition in case they get lost or wander away.
Our standard MedicAlert + Safe Return Program labels look like these:
Shop All Iron-on Label Products
Don't forget to order some durable, waterproof, smudgeproof , white poly sticky labels.
Sticky Labels are ideal for identifying personal belongings such as:
Shoes
Hair brush/comb
Shampoo
Books
Water bottles
Much, much, more
Shop All Stick-on Label Products
Order package D8 to get both types of labels. 100 iron on clothing labels and 1 sheet (80) small sticky labels. And save $3.00.
All orders, ship FREE via USPS first class mail.
Need your labels fast? Get them to your door in one to three business days with a faster USPS(US postal service) shipping options available at check out.