Stick-on Labels
A Great Solution for your Belongings
Sticky Labels for items plastic, paper, glass, metal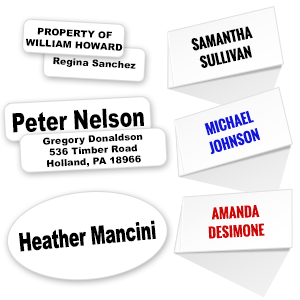 Durable white poly labels tear resistant, waterproof to stick on your belongings to identify as your own. Oval sticky labels fit great inside shoes and come with clear overlay for extra durability.
And for clothing Stick-on Clothing Tag Labels with or without a graphic.
.5" x 1.75" (S2)
S2 must be applied to Care / Size tag
Removable stick on clothing tag labels, for temporary use that will stay on through multiple washing and drying, until you decide to remove them.