Sticky Labels
Label all your personal belongings.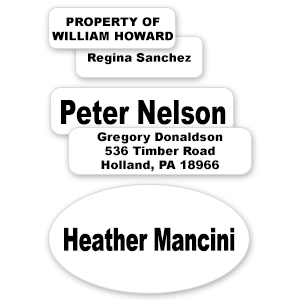 Durable white waterproof polyester labels have a strong adhesive to STICK ON everything else you need to identify as your own.
Color Graphics now available on all sticky on labels.
Sticky Labels are ideal for identifying personal belongings such as SHOES, water bottles, flash lights, lunch boxes, books, toys, shampoo bottles, hair brush/comb, school supplies ,CD players, sports equipment, and much, much more!
Sticky labels are available in the following sizes:
Small: 1/2" x 1-3/4" - 1 or 2 lines of text
STICKY LABELS ITEM (L1) ARE NOT FOR USE ON CLOTHING.
—
Large: 1" x 2-5/8" - 1 to 4 lines of text
Made of sturdy polyester that is weatherproof/waterproof, resists moisture, scuffing, tearing, and smudging. Extra strong adhesive adheres to all smooth surfaces.
New Size & Shape Especially for Shoes!
Oval: 2-1/2" x 1-3/8" - 1 or 2 lines of text
Shoe Labels come in a sheet of 20 labels, enough for 10 pairs of shoes. The oval shape fits nicely on the insole of the shoe. Shoe labels also come with a sheet of clear overlay labels to increase durability. Just peel them off and stick them inside your shoes.

Sticky labels are NOT for use on clothing